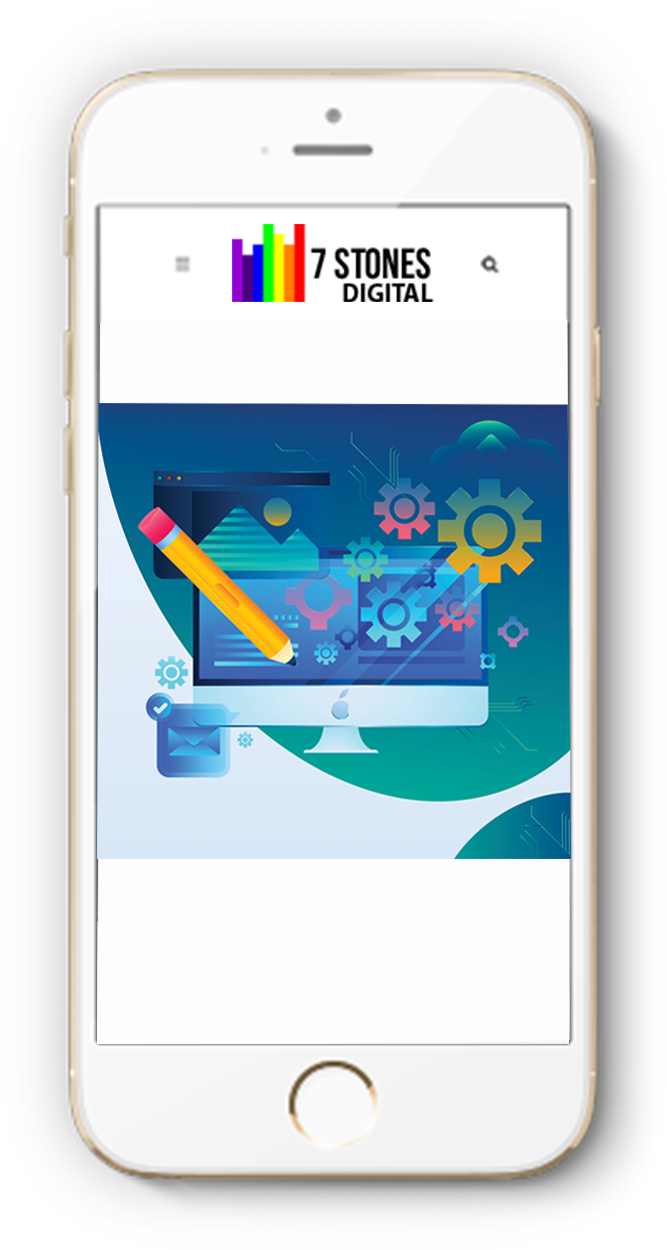 Why Is Website Maintenance Important?
You have a wonderful website which is attractive, engaged, SEO-optimized, having a good number of visitors, and getting leads. So, you think you can be relaxed now! No. There is another important aspect you have to focus on website maintenance. Though you have a well-designed and developed website, it is required to make necessary changes according to the latest trends and technologies to outperform your competitors.
Website maintenance is the most important thing that one shouldn't neglect to keep their website always active and healthy. At 7 Stones Digital, our professional team of web development will maintain your website in order to protect your website, drive the leads, and increase the sales. We believe that website management is not a one-time assignment but needs a consistent maintenance to generate leads.
start today
What are the services included in Website Maintenance ?
Our package comprises of all the standard updates necessary to maintain a website.
Below is a sample list of services covered under the website maintenance plan.
Text: Updating the website content


Photos: Updating and deleting photos in the news, gallery, team photos.


Web-pages: Additions/deletions keeping the existing webpage design


Navigation: Update or create new navigation links based on the changes made in the website.


Videos: Insertion and deletion of videos in the website


Links: Additions or deletions of links.


Color and Background Images: Changes/replacements


Forms: Form layout integration and updation of the old forms in the website.


All Standard Support: Help with e-mail set-up, etc.


Why 7 Stones Digital for Website Maintenance?
We Keep the Website Look fresh and updated
Variety of website maintenance packages
Annual Website Maintenance:
From content management to hosting and coding issues, our expert web development team will take complete care of your website. We also provide annual website maintenance services for the clients. However, we suggest monthly website maintenance packages to ensure the website is healthy. Website maintenance plays an important role in the success of online marketing and we suggest our clients go with website maintenance after creating the website to withstand for tough competition.
Monthly Maintenance:
As every search engines likes the websites that are active, we will update the fresh content on your website and make it appear on the top of the search engine results with our website maintenance services. After updating the content, we will also promote it on different social media channels.
Regular Website maintenance:
An ideal website should not be static without any updates as it is a sign of failing to appear on the Google search results. As per the Google rules, the website which is active and frequently updated has more chances to appear on top of the search engine results. Also, providing the right information about your brand or product to your customers will make them trust you.
Minimal Investment
All you need to do is pay a nominal fee to keep your website alive and running. Because we now live in an era where online presence is more essential that a presence in an offline world. Remember, People from any corner of the world can reach you only through your website and this website needs to stay updated else people might bounce back to your competitors.
How 7 Stones Digital Maintain your website?
Monthly Website Maintenance Plans
Check our monthly website maintenance plans below to have an idea of approximate pricing of your website maintenance.
Features

Unique web update tickets

One (Up to 1 hour of related support time is included. ASP, .Net & PHP Scripting is not included)
Two

(Up to 2 hours of ASP, .Net & PHP Scripting or non-development related support time is included)

Five

(Up to 4 hours of this time can be ASP, .Net & PHP Scripting related support time)

Updates made during normal business hours (After hours, weekends & holidays aren't covered)
Included
Included
Included
Tech Support & Consulting Requests
One
Two
Four
ASP, .Net & PHP Scripting

7,700 INR/hour
Included in the two hours of Unique web update tickets (7,700 INR an hour after the 2 included hours)
Up to 4 hours included in the five hours of Unique web update tickets (7,700 INR an hour after the 4 included hours)
Ecommerce
Included
CMS Support
Included
Included
Email/Webmail/Mobile Support
Included
Included
Included
Online customer support system

Included
Included
Included
Turnaround Time
Five Business Days Max (Clients on support plans, receive priority issue ticketing)
Three Business Days Max (Clients on support plans, receive priority issue ticketing)
Two Business Days Max (Clients on support plans, receive priority issue ticketing)
WordPress CMS quarterly upgrades/security patches

1 CMS included
1 CMS included
Magento CMS quarterly upgrades/security patches

1 CMS included
1 CMS included
Monthly Google Analytics traffic reports
Included
Included
Included
Need more information? Call Us: (+91) 93 6337 7776
Get a quote
Better Ranking:
When you contact us for your website maintenance, we will check all possible ways to improve the ranking of your website and make your website appear on the first page of the search results which results in increased visitors, leads, and sales.
Customer satisfaction:
Among all, customer satisfaction is the most important thing for successful business. Irrespective of your business, if we focus on the satisfaction of the customers, success will follow us in no time. Initially, we understand your business and analyze your website to know your customers. The expert team of 7 Stones Digital identifies the customer preferences and makes changes accordingly which results in the generation of leads.
Hourly Website Maintenance Rates
Receives lower support ticket priority than the monthly maintenance packages
Features

To increase your visibility online

BASIC PLAN

AGGRESSIVE PLAN

MARKET LEADER

Rates
7,700 INR
8,750 INR
9,450 INR
Billing
Billed in 30-min. increments
Billed in 30-min. increments
Billed in 30-min. increments
Minimum Service Request
1 hour
1 hour
1.5 hours
Need more information? Call Us:
Get a quote
Get a quote
Get a Quote
Why Choose 7 Stones Digital for Website maintenance?
Some of the Features that are gonna blow your mind off
Website Analysis Report:
As soon as we get website maintenance project, our web development team will completely analyze your website and make a detailed report on what changes are required and why your website needs maintenance.
Server Performance:
We believe a bad hosting can make your website slow which results in traffic loss. We know the best hosting packages that are available for a reasonable price with all the features and we will choose the best out of them for your website.
Website and Database Backup:
Website and database backup should be taken every month without fail. If you forget to take the backup of the website, it would be a risk if hacking issues occur. Our professional team takes the backup frequently to protect your website.
Update content
Updating the content is the first and foremost thing of website maintenance. Our content management team will gather all the information and updates from you about your product or business and curates content in an attractive way that encourages lead generation.
Update Plugins:
A Plugin is the most useful software that contains a group of functions. There are several such plugins on a WordPress platform which will be helpful for you to manage your website without coding. Our web design team will analyze your business and install and configure the required plugins to make it easy for you to maintain your website.
Broken Link Checking:
If you have an attractive content but not getting enough traffic to your site, it could be because of broken links. It is important to check broken links often to make your website rank better and increase traffic. At 7 Stones digital, our team will check broken backlinks using tools and manually and fix all of them to make sure your bounce rate will be reduced.
Website Performance:
Finally, we will check the overall performance of the website using different tools and manually. Our web development team will take enough time to check every part of your website to ensure the performance is good.
Monthly Activity Report:
After checking the complete website performance, our expert team will prepare a detailed monthly activity report stating what changes we have made and how far your website performance has been improved because of our website maintenance services.
Affordable Price:
At 7 Stones Digital, the pricing of website maintenance Services is affordable to every business person from small to big. To make ourselves available to the clients, we are offering different monthly website maintenance packages so that you can choose the plan according to your budget.
Fill the form to get your Website
Maintained

or

optimized

We strive to provide Our Customers with Top Notch Support to make their Theme Experience Wonderful

Call Now
Tags:
Website Maintenance
What is website maintenance?
Website Maintenance Cost In Chennai
Website Maintenance Service In Bangalore